MUST HAVE Birthday Party Game Idea for Kids and Adults – Pinata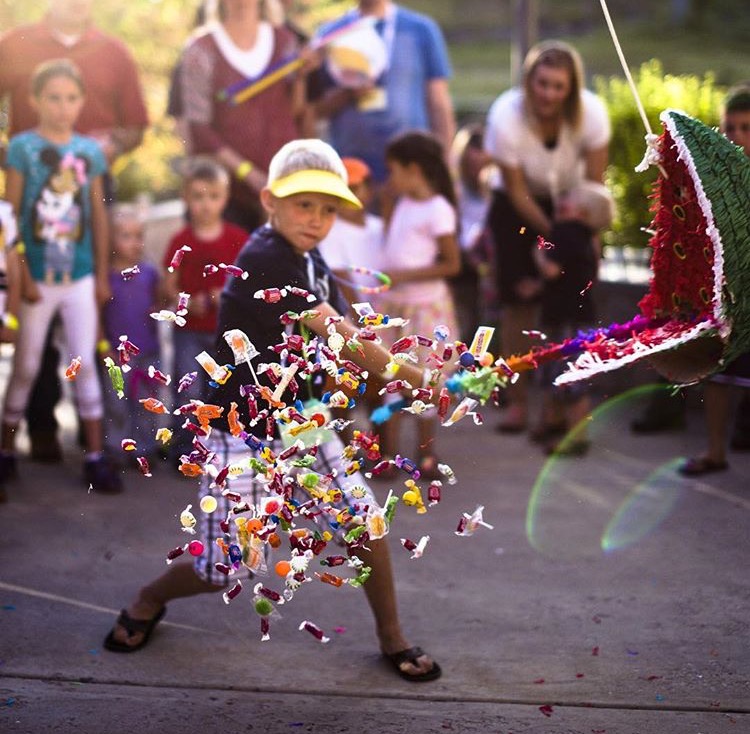 Pinata has been the most exciting game in any kind of party. It is hard to see any kids doesn't want to join it.
All kids love to wreck beautiful things!
How to play Piñatas ?
There are 2 types of piñata. Hit it with stick or pull string.
It is easy to play piñata, grab a piñata stick. Blindfold the kids. Spin them around a few times. And then let them swing, one at a time, until the piñata busts open and empties all the candy.
Or.. just asked the kids to queue up and let them hit it one at a time without blindfold.
A pull string piñata is great for the little ones around the age 1~5 years old. Each child gets to pull one string, but only one string will release the filler. Pull all the strings at once for very small children.
Or.. Let each kids to hold each string. Count to 3 and pull the strings together.
Good things with pull string piñatas – piñata remain mostly intact and can still be part of the decorations.
Piñata Fillers
Normally piñata fill with candy. However, candy is certainly not your only option. You can put anything inside piñata except anything breakable, sharp or metal stuff. Be sure there are enough prizes inside, so everyone gets a fair share. Consider choosing prizes to match your theme.
Girls Piñata Ideas
You can choose girlish piñatas such as My Little Pony, Minion, Hello Kitty, Colorful Rainbow with ribbon, princess themes piñatas and etc.
You can also enhance her piñata stick that looks like a fairy wand.
Boys Piñata Ideas
You can choose any superhero piñatas, Star Wars themes, monster and etc.
Adult Piñata Ideas
Relive the childhood fun with a grown up twist. Instead of handing out favors for your party, fill a piñata with prizes that adults can appreciate. You can spend a little more per prize but fill it with fewer items. Here are a few filler ideas for adults.
– Bottle openers
– Personalized key chains
– Gift cards
– Thumb drives
– Cologne & Perfume samples
– Cigarettes /Cigar